Tuesday, November 30, 2004
Share the Embarrassment
My Uncle Jim and Aunt Bernie, who have been enjoying the blog, sent this embarrassing picture with this year's Christmas card. A picture this awful has to be shared. While the bowtie is truly horrifying, for me that hair is the most ridiculous of all. I never combed it like that except for this picture. Or perhaps someone else combed it this way, I'm not sure. But this is from around seventh grade so I would have been about 12.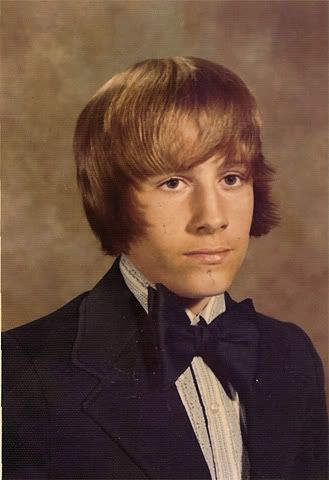 Monday, November 29, 2004
My Little Packer Pal

While Porter has shown only a passing interest in football, Alice will sit and watch an entire game with her papa. Of course, with the Packers in control of the whole game, she faded quickly in the fourth quarter.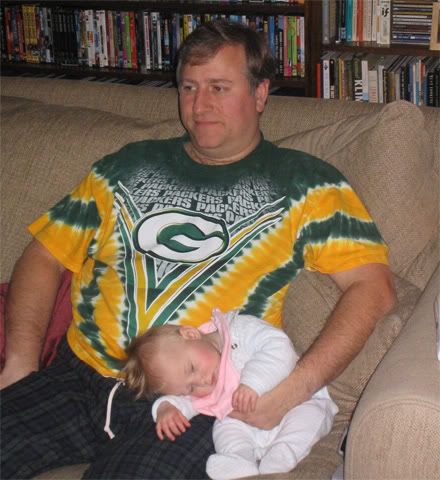 License Plates
A friend in Virginia sent me this information. Apparently, you can get a specialized plate there to help spread awareness of autism. Virginia has a whopping 180 different custom plates whereas California has a paltry 7. Here's what the VA one looks like: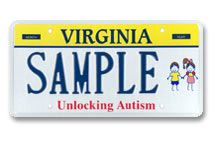 Thanks, Lori
Sunday, November 28, 2004
I Did It!

I can hardly believe it myself but with a little over two days to go, I just wrote my 50,065th word, finishing Chapter 18. While I still have 16 chapters left to finish the book, I've completed the
NaNoWriMo
challenge completing 50,000 words in under 30 days. I'm planning on continuing until I finish the book, though the pace will undoubtedly slow a bit. As long as I keep going and finish it up, I'm doing good as far as I'm conncerned.
It's hard to explain, but it has been a very rewarding experience and I'll elabroate more when I'm actually completely done with the novel. If you're curious, the book is called
The Ghosts of Autumn
and can be read online.
The Outlet Store Train
Porter takes a ride on the outlet store train during a quick trip to buy some Christmas gifts.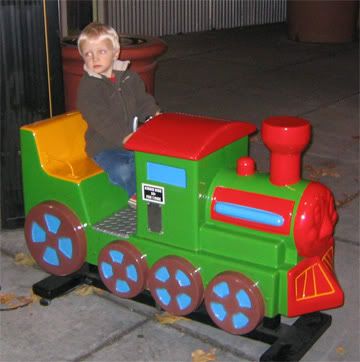 Saturday, November 27, 2004
Our Own Mapplethorpe or Avedon
This is the first photograph Porter took during his first photo session. He took 35 pictures, most of which were very
avant garde
, including some thought-provoking shots of the ceiling, Sarah's arm in close-up, self-portraits, and his own hands in extreme close-up. This one is from his more accesible early work as opposed to the later pieces in his
oeuvre
, which tend toward the more purely abstract.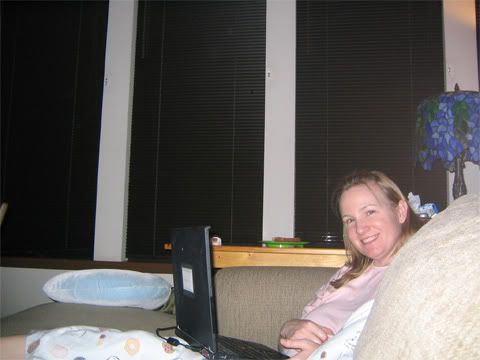 Saturday in the Park
Porter captains the ship at Peacock Gap Park in San Rafael.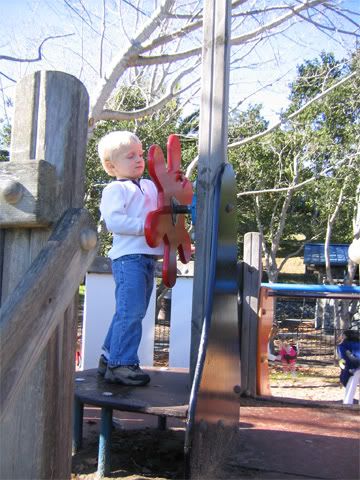 Alice goes for her first ride on a swing.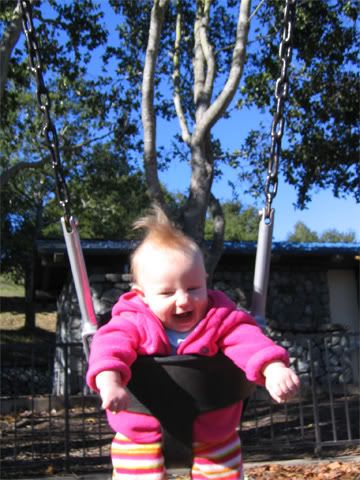 Friday, November 26, 2004
Friday at the Discovery Museum
Work, work, work!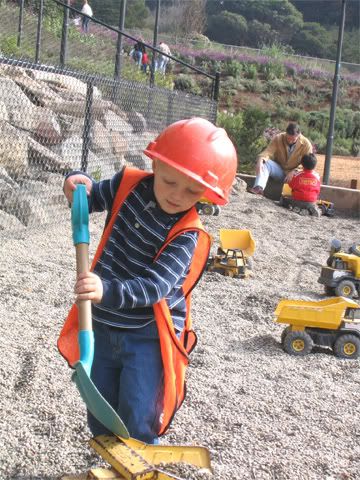 Thursday, November 25, 2004
Happy Thanksgiving

Happy Thanksgiving from the Brookstons. Porter shows his creativity in train layout building Thaksgiving morning.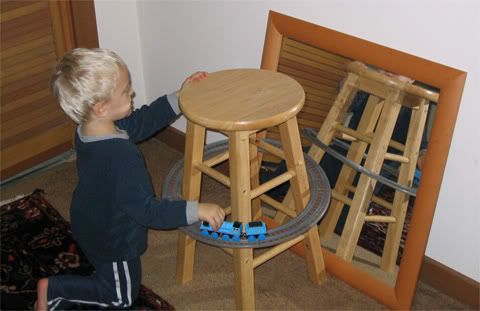 Monday, November 22, 2004
First Day of School
Porter started his new school today. He'll be going every day from 8 to Noon. His teacher reported that he had a good day and by midday he was doing well enough that they already started testing him, which means they began giving him learning tasks to work on which are designed to help him overcome his deficits in language caused by the effects of the autism. Normally, there's a longer transition period before they can begin but apparently Porter was doing well enough that they just jumped right in. He has to bring a backpack everyday to hold his lunch, extra clothes, and his notebook which the school uses to send us progess reports and information. Today the class played "Duck Duck Goose."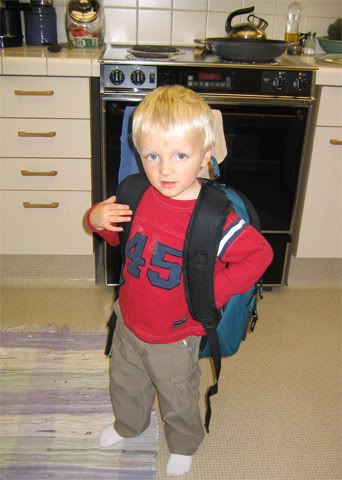 Porter models his new backpack on his 1st day of school.
Saturday, November 20, 2004
Bears Win Big Game 41-6 Over Stanford

Porter and Alice suited up and rooting for their Mama's alma mater as the Cal Bears destroyed Stanford in the annual big game today. Yeah Bears!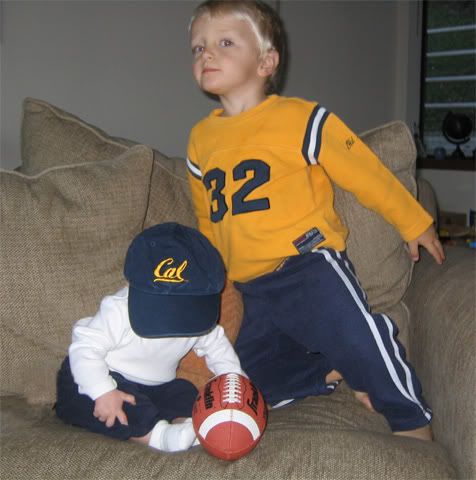 Friday, November 19, 2004
Scrap Attack!
Even though Jay has given me no end of grief about getting crafty, I decided to start a scrapbook for Porter. A few of the books that Jay and I read suggested that creating a scrapbook can help autistic children with things like comprehension, memory reinforcement and narrative skills by providing visual cues to tie into language they might hear and use. I did my first layout today with an eye towards helping Porter with the transition from his current school to the new one on Monday. We'll show it to him as we tell him about the new school and hopefully the pictures will help him understand how he is going to do something new, but something which will be like what he has already been doing.
Last Day of School

Today was Porter's last day at Abbey Montessori Pre-School. Monday he'll start his new school. We threw a going away pizza party for him. The school gave us some pictures of Porter from his year there and one of the other kids, Parker, gave him a really nice going away card with pictures his mother had taken of the two of them. It was really sweet. Especially since we didn't even think he had any friends at school. Apparently, at least one of the other kids considered Porter
his
friend, which is a start.
Here's one of the tables at the party.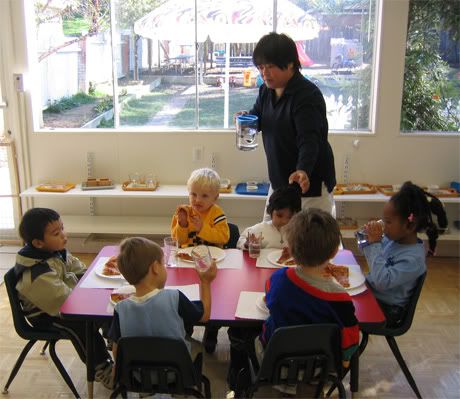 Porter displays his pizza eating prowess.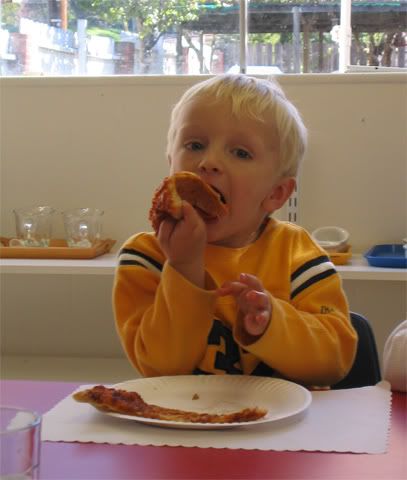 Wednesday, November 17, 2004
The I.E.P.

The keenly anticipated I.E.P., or Individual Education Plan, was held for Porter this morning. In addition to us, of course, the meeting was also attended by Hallie Joffe, the Speech-Language Pathologist, and Cameron Kline, the School Psychologist. They were the two we'd met before and who prepared the report. Then there was Toni Lee, who runs the school itself. She had given us our tour a few weeks ago. Also the was Katherine Steinberg, who's known as Micki. She will be Porter's new teacher. We'd seen her before during the tour but didn't get much of an opportunity to talk with her then. Lastly, Gene Rich, who represents the school district we live in, which is Dixie. We had never met or spoke to him before and he seemed like a very pleasant, straightforward person.
We reviewed the report and then went over Porter's Goals and Objectives for the coming year. There are seven of them; four in the area of language development and three in social development. For each one, there's a pretty specific mark they want him to hit. Each quarter has an increasingly ambitious goal for him with the ultimate goal for the fourth quarter, or his one-year anniversary.
There will be only six people in his class and one assistant teacher in addition to Micki so there's a 3 to 1 student/teacher ratio. He'll be going every day from 8 a.m. to Noon beginning this coming Monday, the 22nd. He'll also be attending summer school, which is seven weeks long although we don't have those exact dates yet. That should be his overall schedule until it's time for kindergarten in a couple of years, assuming all goes as we hope.
He'll also be getting one-on-one speech/language therapy twice a week for one hour per session. Overall, I was pleased with the meeting and everything seemed positive and hopeful. His new teacher seems very nice and enthusiastic. I'm going to take Porter to meet her and see his new classroom tomorrow to try and make the transition from Montessori to easier for him.
Monday, November 15, 2004
Alice Gets Clean Bill of Health

Alice had her four month well-baby appointment today, weighing in at 12 lbs., 7 oz. (just under the 50th percentile) and just over 24 in. (right at the 50th percentile). Everything else was as expected, though she didn't appreciate her shot very much and let the doctor and me know just how unhappy she was.
Sunday, November 14, 2004
Bay Area Discovery Museum
Yesterday we took the kids to a new place called the Bay Area Discovery Museum. About 15 minutes from home, it's right by the Golden Gate Bridge in some abandoned barracks and other buildings on Fort Baker, a former military installation that's now part of the park system. We got a membership for 6, so that the grandparents can take them as well. There were tons of stuff to do for kids, including art and science classes, gingerbread workshops and just really cool play areas. Here's just a sampling: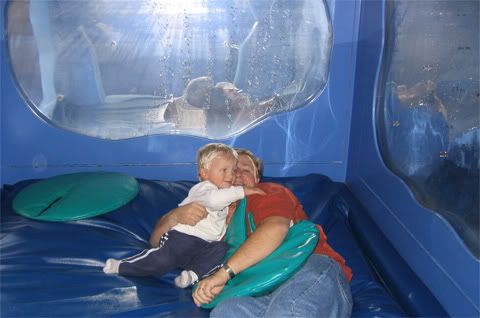 Inside the tot building are undersea themed waterbeds for the kids to jump on.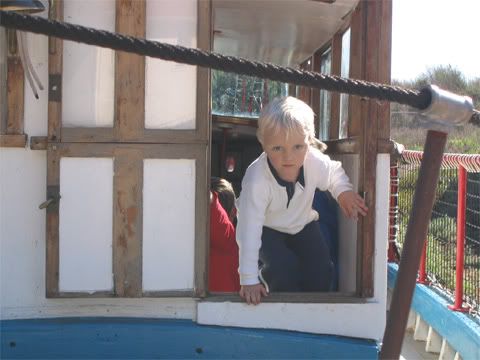 In lookout cove, with pirate ships and a replica of the Golden Gate bridge, Porter plays on a fishing boat.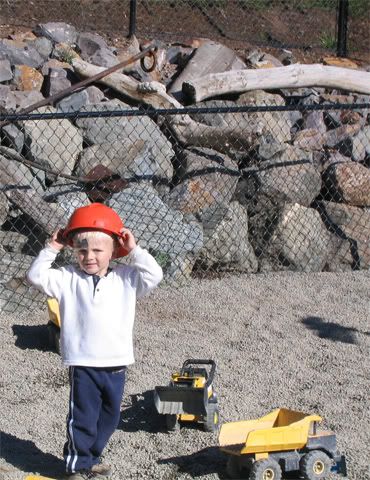 Porter displays his construction skills in hard hat.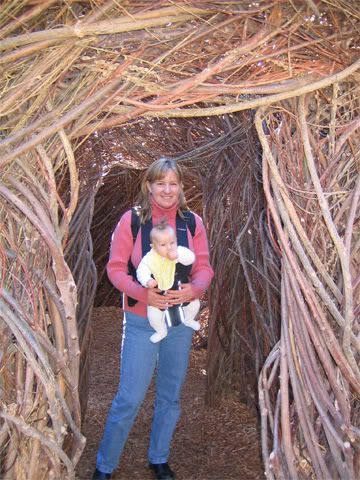 Sarah and Alice in the very cool stick house maze.
Friday, November 12, 2004
Smorgasboard Update
Not much has been happening the past couple of days. We're counting the days until the IEP, which will be a big day. Yesterday, I took the kids to have their picture taken for this year's Christmas card but I'm not going to post it until Christmas so you'll have to wait until you receive yours in the mail. It's pretty cute. I've been blazing on my novel and I wrote 3,675 words yesterday to catch up so I'm once again on pace to make the 50,000 deadline. But I'm only a third of the way there so I can't start coasting yet. I'm still getting used to Sarah being back at work and having the kids to myself. It's getting easier to give Alice a bottle, finally. She even took one at 11 this morning, which is the earliest she's taken one so far. Sarah's P's have been helping me out a lot this week to help me with the transition to full-time daytime single parenting. We've got a surprise in store for Porter this afternoon, but I'll wait until tonight to tell you about that. In the meantime, here's a couple of new pix of Alice: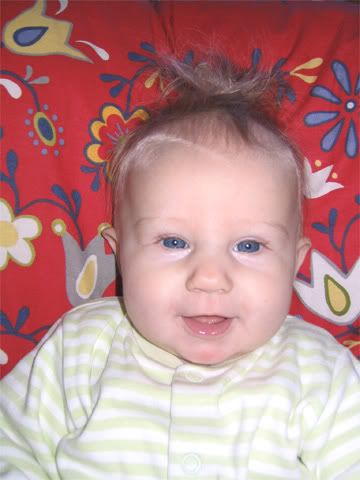 Looking happy in the rocking chair.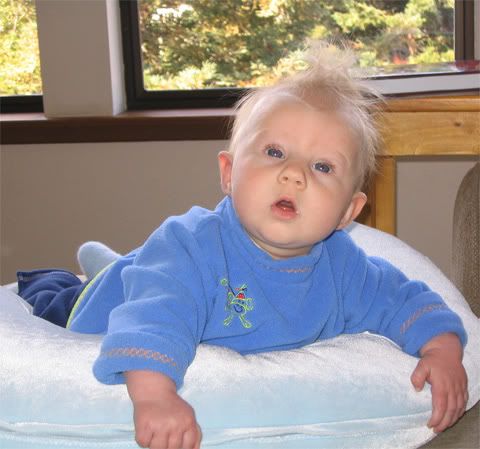 More tummy time.
Wednesday, November 10, 2004
The Results Are In!

We got the county report today with their formal recommendations. No real surprises since they'd already given us their informal ones. While I haven't digested the entire eleven page report, the gist of it is as follows.
They've concluded that Porter has "significant deficits in the social use of language" and ditto "play skills and his ability to interact with others." This, along with other observations and testing, indicates a "pattern of deficits" that suggests Autism Spectrum Disorder. Which is pretty much what we already knew. They conclude that he should benefit from the special education class designed for kids who "exhibit autistic-like behaviors." In the two test results, Porter scored a 98 on the Gilliam Autism Rating Scale, which indicates "likely" ASD (the range for likely is 85 to 115), and 37 in the Childhood Autism Rating Scale (or CARS), which indicates mild to moderately autistic (over 30 is the benchmark).
Overall, the report emphasized that they were hopeful that the severity appears to low to medium and that he should respond well to the specialized training. A week from today is the IEP, at which time this will all be formalized and a start date for his new school will be determined. It's looking like he should be able to start the Monday following this meeting, which is the Monday before Thanksgiving, the 22nd of November.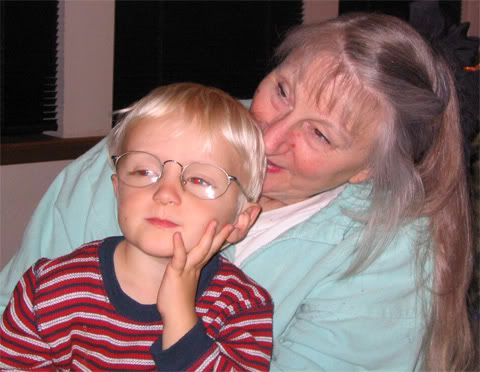 Porter, looking smart and sophisticated in Daddy's glasses, as Grandma whispers something witty in his ear.
Tuesday, November 09, 2004

A Red-Letter Day!
OK, all the experts say you should only encourage using the potty, never force it and keep it fun. But without language it becomes more difficult to communicate the concept of using the toilet. So we bought the potty, encouraged, watched videos (oh those potty songs), talked about using it, and demonstrated using it (watch my aim!). So over the weekend we picked up another kind of potty, the kind that fits over your existing bowl so it becomes toddler size. Last night, for the second time in as many evenings, Porter grabbed a particular Thomas book,
A Crack in the Track
, and sat down
.
Coincidence? Who knows, but last night after thinking progess would be painfully slow we heard a distinct plop. Then we heard it again. Success! Too graphic an account? Be glad I didn't take pictures. Here's the reading material.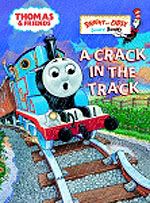 Monday, November 08, 2004
Alice Uses Bottle!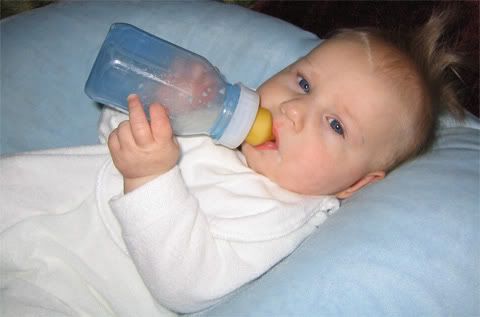 Stop the presses. At 3:15 today Alice finished her first full bottle. After showing no interest or ability to use a bottle, worrying her parents about starving days and gorging nights, Alice beat the odds and not only has taken to the bottle but can even hold it herself for short periods of time. Woo-hoo!
Self-Portrait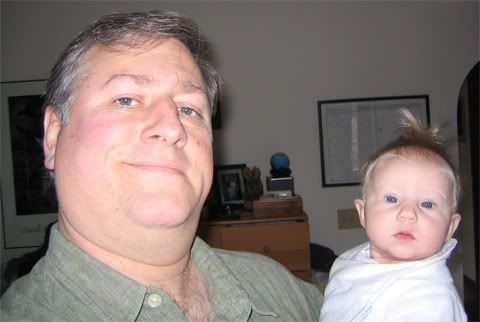 A self-portrait of Alice and me on our first day together alone.
Back to the Daily Grind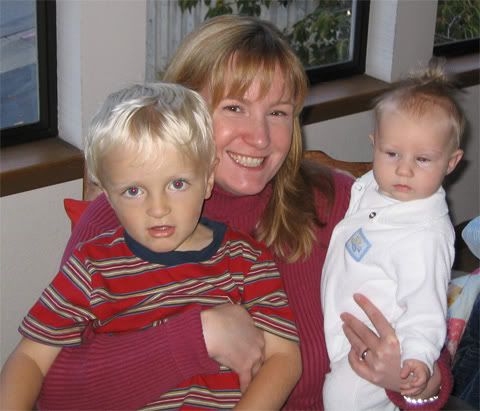 Sarah says so long for now to the kids as she heads back to work after her four-month maternity leave. Alice, who's very attached to her mama, greeted the news with something less than wild enthusiasm.
Sunday, November 07, 2004
Seafood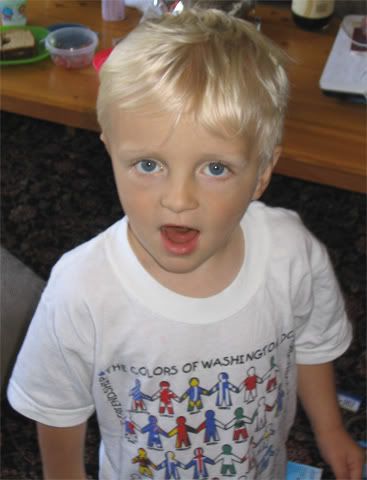 Make that see food! OK, you can't quite see it it. I can. You're the lucky one.
Tummy Time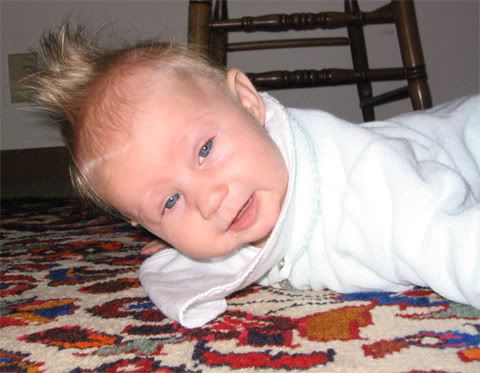 Alice gets some tummy time. Check out that mohawk!
Friday, November 05, 2004
Playing by Ear

This morning Porter had his hearing test to rule out that as a possible reason for his language delay. It was primarily a formality since he generally will respond to sound, except when he doesn't feel like it. He passed OK, but it was a bit of an ordeal for them to administer the test but given the setup, I'm guessing no toddler is a very willing subject. Anyway, here's Porter waiting for his test results.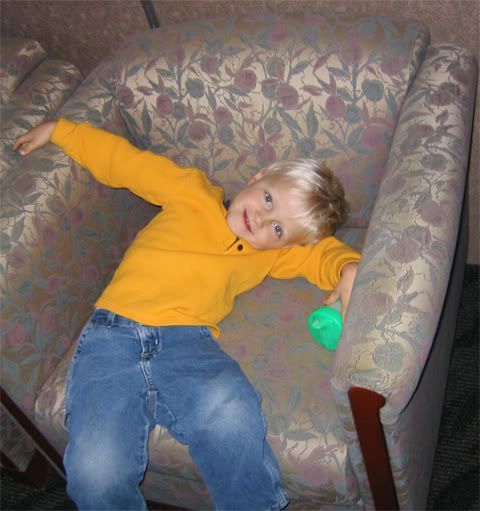 The Thinker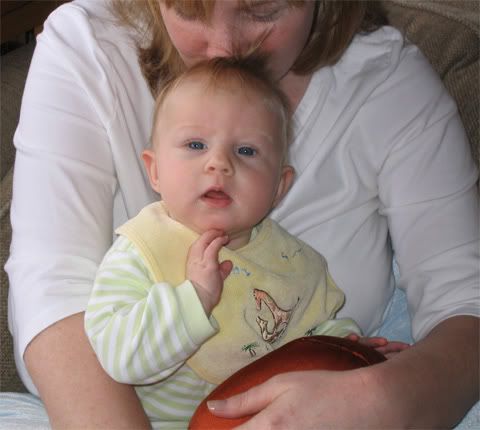 Alice muses on the meaning of life.
Politics

Those of you with keen memories may notice that we've removed most of the political screeds that started showing up after Tuesday's election. It was never my intention to turn this blog into a political forum but the events of recent days just got the better of me. Sorry about that. I've moved them over to a new blog,
The Bewildered Herd
, and I'll continue to rant over there. This will allow me to keep this blog family-oriented, which I'm sure would curry favor with King George to no end. Damn, I did it again. I just can't stop myself. Anyway, for those of you who enjoy my cranky rantings, fear not - I will not be silenced! For the rest of you - here's a picture of a bunny.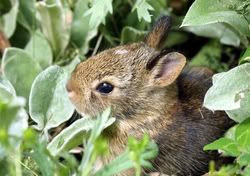 Tuesday, November 02, 2004
Truth in Labelling

This just in from a friend in Canada where today is known as "Fingers Crossed Day." Thanks, Stephen. Fingers crossed here, as well.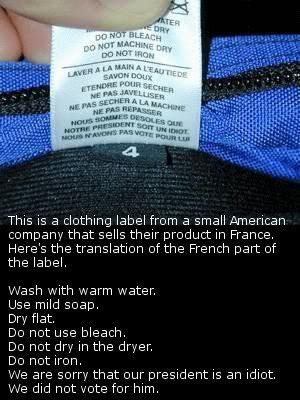 Vote Early (and Often)
Help Porter dump Bush!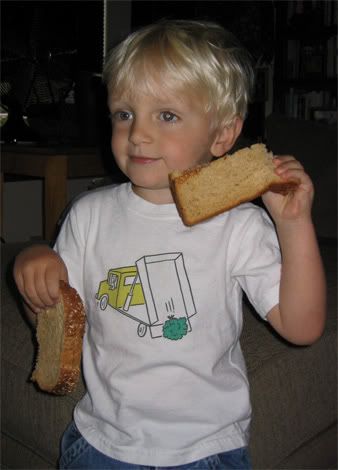 Monday, November 01, 2004
30-Day Novel Odyssey Begins

OK, I decided to write a novel this month. Yeah, it was kind of a surprise to me, too. There's this sort of goofy organization known as
NaNoWriMo
, which stands for National Novel Writing Month, which is November. They sponsor a challenge to write a 175-page (50,000 word) novel in 30 days. "Valuing enthusiasm and perseverance over talent and craft, the ONLY thing that matters in NaNoWriMo is output. It's all about quantity, not quality. The kamikaze approach forces you to lower your expectations, take risks, and write on the fly." I thought, what the hell, it sounds like a fun, bizarre exercise. So my working title is
The Ghosts of Autumn
. Using the symbolism of seasonal decay, a middle-aged man grappling with his own mortality flies home for a funeral and confronts both the reality of death and the unreality of lingering regrets of his youth as he revisits the haunts where the ghosts of his youth now taunt him. You know, a comedy. It will probably suck, I mean who rights 1,500 words a day? But that's the plan. But I'm just thinking of it as an exercise to get my writing chops up by just doing a lot of it in a short period of time. If you're really bored or have a lot of time on your hands, you can follow along since I'll be writing the novel on a blog I set up for just this purpose. It's called
November Novel
and there should be a new chapter at least every day. Wish me luck, I'm going to need it.
Pizza Night

Porter helps Sarah with dinner by helping himself to some Mozzarella. He did actually help spread the pizza sauce and the cheese on the dough.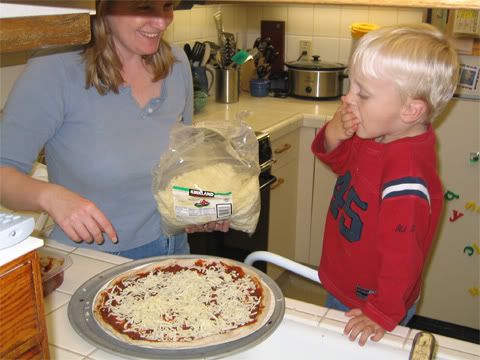 The Snuggle Chair
Sarah and the kids use our new oversized chair for its intended purpose ... snuggling!